Railcar Loading Platform Systems & Railcar Loading Racks
Hemco Industries manufactures multiple station loading racks to accommodate loading applications of all sizes. In fact, if we don't have a standard multi-station loading rack system to satisfy your project needs, we can build a custom loading rack solution to your exact specifications.
Railcar Fall Protection Systems
Load Rail Cars Safely and Quickly. We know that trains come in all different shapes and sizes, and that's why you need a railcar loading safety system that can effectively accommodate any configuration that rolls into your station. You also need railcar fall protection systems that efficiently load railcars and adequately protect your operators.
With Over 60 Years of Railcar Fall Protection & Railcar Loading Platform Experience.
Hemco has designed and manufactured railcar loading solutions for various industries including crude oil railcar loading safety systems, pulp and paper railcar fall protection, chemical railcar loading systems, food and beverage fall protection, and more; so we know what works best in the field. With our years of experience we understand and know how to design and build railcar loading systems that work for decades, too. We design, engineer, and deliver railcar loading platforms that keep loading rail cars and operations running efficiently and consistently.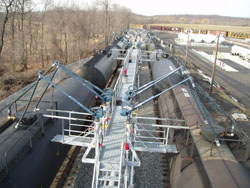 To speak with a Hemco fall protection representative, give us a call at 281-890-6862 or toll-free at 888-746-4973.
Hemco Industries appreciates the opportunity to compete for your business – for a FREE quote on your custom truck loading station, fill out out Request A Quote form and a Hemco representative will contact you shortly.
Click Here to learn more about OSHA fall protection guidelines which includes custom loading racks and similar applications. We're also happy to answer any OSHA related questions you might have.