Back Pressure Valve Application Overview
The MGM Series 51 Back Pressure Check Valve is made from carbon stainless steel and designed specifically to allow one directional flow. The metal in the seating allows slight leakage in the closed position. The bodies of these valves are machined from bar stock, and not joined in sections to promote added durability.
The Model 51 MGM Back Pressure Check Valves are made for installation in lines that flow into pressure tanks. Make sure the valve is used on inflowing lines where outward flow is never required. You can mount this model in any orientation.
The Back Pressure Check Valves are not designed to reduce outlet pipe size. You want to install the valve as close as possible to the container and point the stem inward toward the container.
Materials
Body – Carbon Steel
Poppet – Stainless Steel
Guide – Carbon Steel
Spring – Stainless Steel
Features
Designed with male and female NPT threaded connections.
Available in 1/2″ to 3″ NPT threads.
Generous flow channels provide low pressure drops.
Heavy duty all steel construction will withstand extremely tough conditions.
Complete 304 or 316 stainless steel construction available for use in corrosive or extreme environments.
UNDERWRITERS LABORATORIES INC. listed for propane, butane, and anhydrous ammonia.
CRN # OC13500.5C
Other valve sizes may be available. Contact MGM for alternate sizes.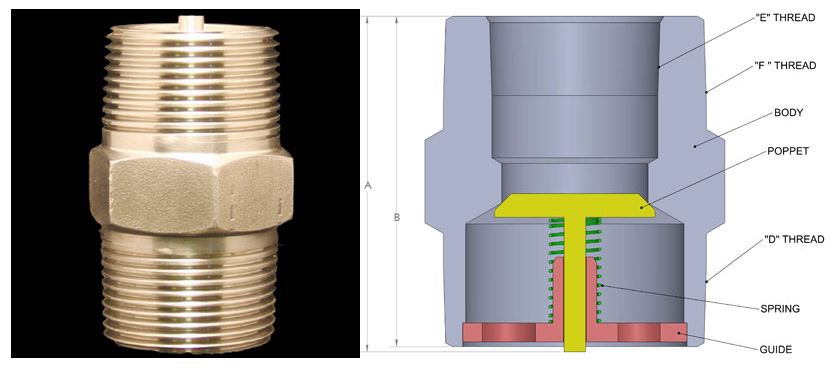 Sizes & Dimensions
Series
Dimensions
A
B
D
E
F
HEX
51:FFD
1x1x0.5
3.0
2.63
1
1
.5
1.38
51:GGE
1.25×1.25×0.75
3.25
2.81
1.25
1.25
.75
1.75
51:HHE
1.5×1.5×0.75
3.44
3.0
1.5
1.5
.75
2.0
51:HHF
1.5×1.5×1
3.5
3.0
1.5
1.5
1
2.0
51:IIF
2x2x1
3.75
3.25
2
2
1
2.5
51:IIG
2x2x1.25
3.88
3.25
2
2
1.25
2.5
51:KKI
3x3x2
5.0
4.38
3
3
2
3.5
All Size Values are in Inches.
Hemco representatives are always available to answer any of your questions – to speak with a representative, give us a call at 281-890-6862 or toll-free at 888-746-4973. For a FREE quote on a single spot loading rack, email us or fill out our simple, online Request A Quote Form.
Visit the Hemco LinkedIn Page for ongoing updates.