Application Overview
MGM Series 301 Excess Flow Check Valves are designed for use in threaded tank nozzles. They are made completely of carbon and stainless steel. Smaller valve bodies are machined from bar stock, the larger valve bodies from pipe and flat plate.
The Model 301 MGM Excess Flow Check Valves has male pipe threads on the bottom ends; they are equipped with a 1/4 inch notch in the threaded end to ease installation. The 301 MGM Excess Flow Check Valves can be mounted in any orientation with negligible effect on flow rate.
As with all MGM excess flow check valves models, the Series 301 is equipped with an orifice in the check mechanism to allow for pressure equalization and will reopen automatically after repairs are made.
Materials
Body – Carbon Steel
Poppet – Stainless Steel
Guide – Carbon Steel
Nut – Stainless Steel
Spring – Stainless Steel
Cotter Pin – Stainless Steel
Features
Valve is designed to be threaded into tank nozzle. A 1/4″ notch is provided to ease installation.
Generous flow channels provide low pressure drops.
Heavy duty all steel construction will withstand extremely rough conditions.
Complete 304 or 316 stainless steel construction available for use in corrosive environments.
CRN # OC13500.5C
Other valve sizes may be available. Contact Hemco for alternate sizes.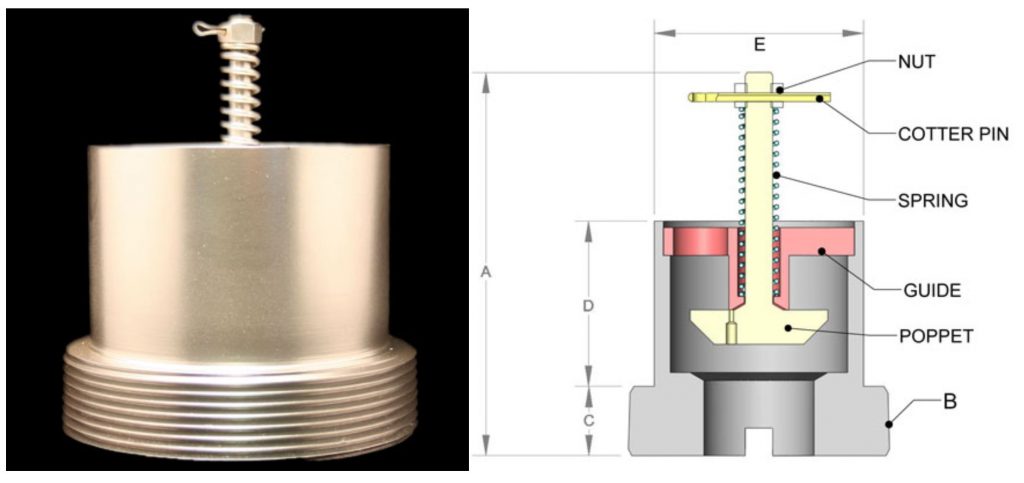 Sizes & Dimensions
Series
Dimensions
A-Open
B-MNPT
C
D
E
301:I
2″
3.44
2
.58
1.5
1.9
301:K
3″
4.17
3
.95
2.0
2.88
301:M
4″
5.11
4
1.09
2.5
3.75
301:P
6″
7.72
6
1.25
4.0
5.56
301:Q
8″
8.88
8
1.44
4.25
7.5
All Size Values are in Inches.